Alaska Fish & Wildlife News

November 2022
European Green Crabs are Here in Alaska
Now what?
By Tammy Davis
I've got bad news to report, dear reader; invasive European green crabs have reached Alaska.
I wrote an article for Alaska Fish and Wildlife News in May of 2021 suggesting that European green crabs could be the next invasive aquatic species to threaten Alaska and described the reasons we should be concerned. While writing that article, it's likely they had already found a suitable spot to settle and reproduce in a lovely eelgrass meadow in the waters of southern Southeast Alaska. This summer, their presence was confirmed near Metlakatla on Annette Island.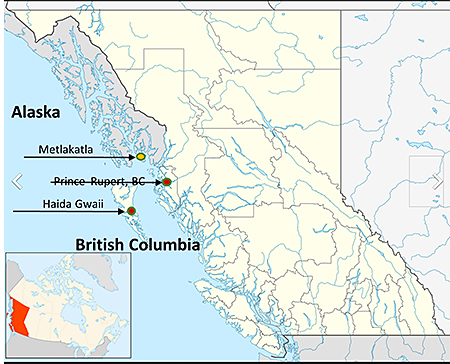 The Metlakatla Indian Community Department of Fish and Wildlife has been engaged in early detection monitoring for invasive species since 2020. Mindful of the potential threat, they established monitoring sites in the Annette Islands Reserve and posted signs alerting community members to look out for invasive European green crabs. In July, NOAA Fisheries-Alaska Region staff and their Sealaska Heritage student intern were touring those sites with Metlakatla's invasive species monitor. They stopped at Tamgas Harbor to view one of their signs and decided to survey the beach and upland areas for molted carapaces of the invasive crab.
Molt surveys along beaches are an easy way anyone can search for signs of invasive European green crab. Crabs, like other crustaceans, shed their armor-like exoskeleton (the carapace or shell) as they grow. For comparison, Dungeness crabs molt as many as six times per year in their first two years; European green crabs molt once or twice during that period, depending on water temperature and salinity. Once shed, the carapace is light and easily carried on the high tide to the beach.
While exploring above the beach zone, the Sealaska intern's keen eyes homed in on a smallish carapace. Much to everyone's surprise and dismay, she'd found the first evidence that European green crabs had reached Alaska. As the day progressed, two more molted shells were found. Since then, the survey team and Alaska partners have focused on responding to this invader.
European green crabs are native to the Northeast Atlantic and Baltic Sea. In 1817 they were found in New England, transported across the Atlantic in the ballast water and rocks used and then dumped by sailing ships. In 1989 they were discovered in San Francisco Bay, likely hitchhiking among seaweed and seafood shipped in the live food trade. They spread up and down the West Coast in subsequent decades, reaching the waters of Vancouver Island, British Columbia in 1999. The invaders damage the nearshore habitats, including eelgrass beds, where Dungeness, other crabs, salmonids, and other native marine species find food and shelter. They can thrive in the same shoreline habitats where native crab species live - and at the expense of native species.
Upon their discovery of the invasive green crab carapaces, Metlakatla Department of Fish and Wildlife immediately began intensive trapping. They deployed traps in Tamgas Harbor, let them soak for 24 hours, and then retrieved them the next day - with live green crabs inside. They have been soaking pots daily since July, and as of mid-October, they have trapped more than 550 live European green crabs.
While European green crabs were crawling in traps at Annette Island Reserve, the Alaska Department of Fish and Game (ADF&G) began surveys nearby. Biologists from Commercial Fisheries and Sport Fish divisions, along with me, the Invasive Species Program coordinator, completed molt surveys along the road system in Ketchikan and several remote beaches. Scurrying beneath the rocks along the shoreline, we found a few species of native crabs in abundance. There were purple shore crabs (Hemigrapsus nudus) that pinched fingers when they were picked up and tiny green shore crabs (Hemigrapsus oregonensis), sometimes called hairy shore crabs. Both the native crab species are smaller than a postage stamp when fully grown - smaller than the European green crab and lacking the five-spines along both sides of the carapace, a clear distinction of the invasive crab. We also found plenty of molted shells of Dungeness crab (Metacarcinus magister) and red rock crab (Cancer productus) in a variety of sizes, as well as a few graceful decorator crab (Oregonia gracilis) carapaces. Luckily, not one invasive green crab shell was found.
When the weather conditions were suitable, we set traps amongst the eelgrass, first in Bostwick Inlet on the east side of Gravina Island. A week later we set traps in Foggy Bay, near the Canadian border, and in Very Inlet. Like all early detection monitors in Alaska looking for European green crabs, we set our pots in the intertidal. We chose protected estuaries, bays with freshwater; areas known to have healthy stocks of Dungeness crabs to protect. Our baited traps were effective at trapping native fish (sculpin, Pacific cod, and even a few perch) and vivid red rock and Dungeness crabs, nearly 500 crabs in total. Yet, we didn't catch one European green crab.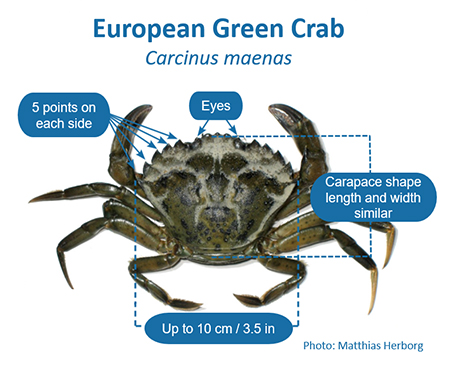 As much as it has been a relief to not find invasive green crabs in our survey area, I am motivated to figure out how to improve our chances of finding these crabs.
As fall storms surge through the Alexander Archipelago and snow appears on the mountains, the field season wraps up and my attention turns to planning for next year. My focus is now on raising awareness about European green crabs: why they are threat to our coastal way of life, and the importance of reporting observations of suspect crabs to ADF&G. I'm also calling on long-established partnerships to recruit volunteers to help monitor for invasive crabs. To ensure we're utilizing the best available science, I'm consulting European green crab managers and researchers in British Columbia and Washington state, searching out scientist who understand ocean circulation in nearshore waters, and studying papers on movement of invertebrate larvae within the Alaska Current. I look to ADF&G's biometricians to refine and improve our survey methods. European green crabs are here, and I want to find them.
You can help
You can join our search. Alaskans from Ketchikan to Izembek National Refuge engage in community-based early detection monitoring for European green crabs as citizen scientists. If you have an interest in the coastal community where you live, you can help! Monitoring for European green crab is relatively easy. With gear provided by ADF&G, Alaskans with access to shoreline habitat suitable for green crab can join the marine invasive species citizen monitoring network. Contact ADF&G Invasive Species Program coordinator by calling the Invasive Species Hotline: 1-877-INVASIV or email me at the address below.
It's also easy to report observations of suspect crabs. We have great information about European green crabs on invasive species pages of the ADF&G website, including the way they threaten native species and habitats; how to identify these invasive crabs and a guide to help you learn the difference between native and invasive crabs. If you find a crab or crab shell you suspect to be a European green crab, rather than collecting it, take many photos of the crab next to a key, coin or credit card for scale. European green crabs are considered banned invasive species by regulation and may not be collected, possessed or transported without a valid permit. You can report observations here or call the Invasive Species Hotline: 1-877-INVASIV. To submit photos and for more information about invasive species email: Tammy Davis, ADF&G Invasive Species Program coordinator tammy.davis@alaska.gov or call (907) 465-6183.
Tammy Davis is the Invasive Species Program Coordinator for the Department of Fish and Game. She enjoys sharing her interest in aquatic invasive species with anyone who asks, give her a call or drop her a line. When not thinking about how European green crabs, she can be found working in her garden or enjoying the outdoors.
---
Subscribe to be notified about new issues
Receive a monthly notice about new issues and articles.